Turning the corner on climate change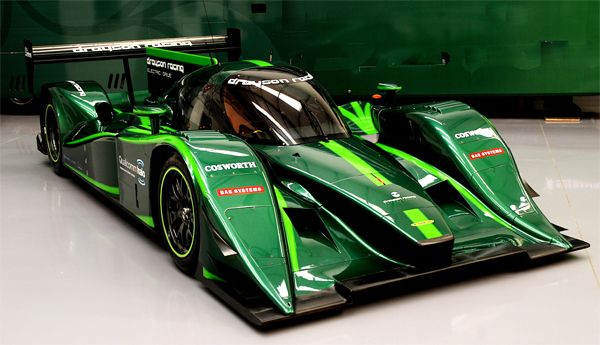 Britain's future leadership in the automotive industry was revealed at Birmingham's Science Capital meeting, as Lord Paul Drayson proclaimed that motorsport was the ticket to global adoption of zero emission vehicles.
The owner of Drayson Racing Technology won at the American Le Mans Series race and the Michelin Green X Challenge at Road Atlanta in 2010 with second generation bio-ethanol fuel, and revealed how racing electric vehicles are changing public perceptions and providing green technology that outcompetes petrol burners.
At the moment there is nowhere in the world to race electric cars. But this is set to change. Motorsport is looking to reinvigorate the spirit of competitive racing in the era of sustainability, with the FIA planning the first world championships for electric cars in 2013. Could this be an opportunity for Birmingham, home of the Superprix 25 years ago? Or will London grab the opportunity first?
Showcasing the performance of zero emissions cars in a Formula E championship on Birmingham's city streets could bring broader benefits - flocks of tourists, enhanced global visibility, and young people inspired to enter engineering.
Political bravery would be required to showcase the UK's motorcity as a green capital. However Birmingham is already making ambitious strides in upgrading its rail and airport systems, and its automotive industry is burgeoning again. What it lacks is way to market this new-found identity globally.
Racing has always been used to hone new technologies that improve the driving experience according to Drayson, who presented at Birmingham's Science Capital Meeting. He said "everything from the rear view mirror to disk brakes were first used on a race car before being used on the road". He is now readying the world's fastest all electric car to compete in 2013, which features surfaces that generate stored power and wings that optimise drag while accelerating or cornering.
The future-looking discussion on automotive technologies was chaired by Barry Shrier, CEO of Liberty Electric Cars. His company sells luxury 4x4's with a range of 200 miles, and has just won funding from the Technology Strategy Board to develop sustainable and affordable solutions for scaling its electric vehicle motor production. Having expanded into Coventry, they now boast one of the world's largest electric vehicle engineering teams.
The largest ever study of low carbon vehicles is taking place in the West Midlands. Over 100 electric vehicles from major manufacturers have been road tested here over the past two years according to David Wright, Director of Strategic Developments at Coventry University. The vehicles are proving to be popular and practical, with multiple charging stations already in place, and a wireless inductive charging trial commencing later this year in London.
New companies emerging in the UK to supply growing global demand include Intelligent Energy, which is commercialising its fuel cells to power scooters, cars and a range of other applications for mass consumer markets. According to Fred Warner, Business Service Lead of Loughborough-based Intelligent Energy, the company recently completed a £22 million round of fundraising, valuing the company at $500 million. The investment enables Intelligent Energy to increase its pace of commercialisation within the consumer electronics and stationary power markets.
Making zero emission vehicles available to all is increasingly vital. The UK's targets, explained Julia King, Vice Chancellor of Aston University, include a 90% per kilometer reduction in greenhouse gas emissions for cars and vans by 2050. This is a challenging target and one that cannot be hit without a huge change in our perceptions. Michael Overduin, CEO of Science Capital, concluded, "people need to experience first-hand how exciting and enjoyable these vehicles are to drive, with competitive racing offering the best route to stimulate public acceptance and wider economic benefits".