Improving Healthcare via Open Data
Science Capital events bring together academics, business experts and investors to discuss the latest developments in the field and to build partnerships.
Upcoming Events
:
Big Data Hackathon

from June 22 - 23 at Birmingham Science Park Aston, registration opens soon
Innovative Healthcare
: from mechanism to medicine
on Wednesday September 25, speakers and date to be announced shortly
Low Carbon:
advanced
materials and
technologies
speakers and
date to be announced shortly
Recent Event
Digital World 2013: Understanding the Data Revolution with 12 keynote speakers from IBM, O2, Cambridge Intelligence, HortonWorks, Growth Intelligence, Aston & Warwick Universities
---
Also of interest:
Queen Elizabeth Hospital Showcase Day on May 20 with exhibits from the Centre for Liver Research (free)
Collaborate to Innovate on 21 May at Edgbaston Stadium, with industry experts debating the role that open innovation and collaboration can play for SMEs (free)
Birmingham 'Pitching for Management' at Wragge&Co on May 22
Universe of Sound featuring Holst's Planets by the Philharmonia Orchestra at Birmingham Municipal Bank from 25 May - 16 June (free)
BizzInn Networking Event at new business incubator offering free office space and support to innovative start-ups at University of Birmingham on June 4 (free)
Smart Cities Event with Kurt Jacobs, Insider, Dr. Steve Harding, Birmingham City University, Tim Finch, IPPR, Raj Mack, Digital Birmingham, Paul Noon, UKTI at Millennium Point on June 7
TEDxBrum returns to Birmingham on June 8 at Millennium Point with speakers talking on 'Marking the Map'
Aston Inspired Design & Engineering Showcase of design and engineering projects at Aston University on June 12-14 (free)
Conference on Digital Health: design: develop: deploy: evaluate by the Institute of Digital Healthcare at the University of Warwick on July 25 (free)
Recent speakers
More speaker presentations and press coverage.
Working together
Partnerships to organise events together with like-minded people and organisations
Custom video production to get your message across.
Founding Partners


David Miliband on employing youth
---
Promoting business through open data
---
---
How social media benefits business
---
How Big Data can help the SME market
---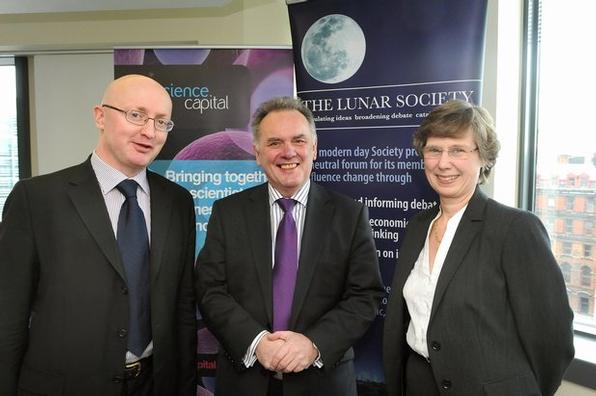 ---
Science Capital Business Plan Award Winners at Digital World 2013:
Deepak Pathak

, WeWana:Play

Radu Sora

, Polysemantic

Stuart Alexander, Lucidity Networks
---
NHS: The Health Information Revolution: a critical PDF Report on how to unlock the hidden value within the NHS for patient benefit
---
Big Data, the Library of Babel or the butter on our daily bread? Read more
---
Birmingham driving innovation in science and medicine and launch of the Edgbaston Medical Quarter
---
Plan to re-establish Greater Birmingham as a major economic driver
---
Science Capital focuses on Digital World 2013: Data Revolution with talks by Dr Mike Short CBE, Vice President, Telefonica Europe and Amish Patel, "big data guru" for IBM, as reported in The Information Daily
We're growing
Four new directors joined Science Capital in 2013:
---
Contacts to help get your ideas off the ground:
Technology and Innovation Futures West Midlands: covers 50% of the costs of industry specialists to examine and upgrade your existing technologies.
Business Development Programme run by GBSLEP for local SMEs offers £10k - £15k grants.
Innovation Network Grants provide £10k for a group of SMEs to collaborate in the region
SMART R&D grants for proof of market/concept/prototyping are available to single companies
List of SME support schemes from BIS
When great minds meet and freely exchange world-changing ideas, an even greater intelligence can emerge @ www.theInformationDaily.com
Participants say
"a great forum to highlight Birmingham's entrepreneurial technology businesses and for those involved in that community to share experiences and ideas" - Jon
more feedback
Media Partners